The solar horoscope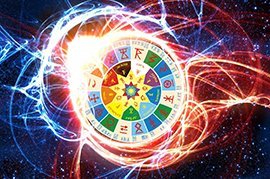 Solar's method allows to identify the potential of events that can occur to a person during his solar year. Similarly, if necessary, you can identify events that can not happen, and exclude them from further consideration. In fact, Solyar is a transit card fixed at the time of the Sun's return to its natal position, taking into account the coordinates of the locality where the person was (!) At that moment.
Select the date, time and place birth:
5 house of the solarium in 5 house of the natal horoscope
Most often it means large events related to a love relationship - both the beginning of communication, and the end - the betrothal or the gap - judging by the indicators of the house. Love experiences and events in personal life play a big role for a person. The desire to have children. If it is possible to conceive and be born in a natal horoscope, this may mean a happy event. Participation in the personal life of children, their love affairs. Increase of life and creative activity. Enthusiasm for one's favorite business, hobby or finding a hobby. If you confirm other indicators of the house can mean winnings, the successful completion of speculative and risky financial transactions.
5 house of the solarol in the homes of the natal horoscope
Comments: