The solar horoscope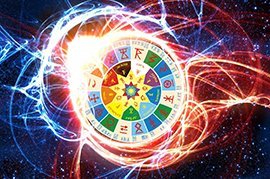 Solar's method allows to identify the potential of events that can occur to a person during his solar year. Similarly, if necessary, you can identify events that can not happen, and exclude them from further consideration. In fact, Solyar is a transit card fixed at the time of the Sun's return to its natal position, taking into account the coordinates of the locality where the person was (!) At that moment.
Select the date, time and place birth:
5 house of the solarium in 3 house of the natal horoscope
Anxiety in love, pleasure from travel, travel with a loved one or to him. Love correspondence, writing on love topics, including lyrical, erotic poetry. Lots of talk about love. Small pleasant travels, amorous adventures. Recognition of the literary works of man, his talents. It can also mean the participation in a love affair of brothers or sisters, neighbors or friends, the engagement of younger relatives. Perhaps the birth of children of brothers or sisters. For people involved in sports, can mean sports accomplishments, major victories (with favorable indicators at home) or simply leaving for significant sporting events.
5 house of the solarol in the homes of the natal horoscope
Comments: