The solar horoscope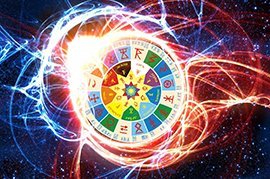 Solar's method allows to identify the potential of events that can occur to a person during his solar year. Similarly, if necessary, you can identify events that can not happen, and exclude them from further consideration. In fact, Solyar is a transit card fixed at the time of the Sun's return to its natal position, taking into account the coordinates of the locality where the person was (!) At that moment.
Select the date, time and place birth:
9 house of the solarium in 10 house of the natal horoscope
Finding a reputation through teaching, educational, scientific, literary, propaganda or missionary activities, or through acts of charity, patronage. Reputation philanthropist and cheerleader. The year is favorable for the promotion of political, lawyer career, for publishers and publicists, philosophers. In general, the year is favorable for promotion, realization of prospects and their objective vision. Honors and awards for work in the humanitarian field and natural disciplines, intellectual activity. Increased claims and ambitiousness in the defeat of the elements of the house. The impact of travel and travel on the social and professional situation. The same influence of foreign citizens and organizations, foreign cultures and attributes. Exit to foreign business, participation in joint ventures. Professional growth away from home, accompanied by a separation from the roots, home, family, but also by the acquisition of patrons. With the defeat of the house - disagreements with the authorities, authorities on ideological issues. In the horoscopes of young people can mean the acquisition of independence, the prospects of adulthood, admission to the university, considered as the goal of the year.
9 house of the solarol in the homes of the natal horoscope
Comments: