The solar horoscope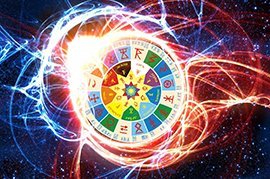 Solar's method allows to identify the potential of events that can occur to a person during his solar year. Similarly, if necessary, you can identify events that can not happen, and exclude them from further consideration. In fact, Solyar is a transit card fixed at the time of the Sun's return to its natal position, taking into account the coordinates of the locality where the person was (!) At that moment.
Select the date, time and place birth:
9 house of the solarium in 7 house of the natal horoscope
Rethinking their attitude to partnerships and human relationships in general. The influence of various kinds of philosophical, religious concepts and cultural traditions on current relations. Search for cooperation prospects. Perhaps, travel and travel with the purpose of contacts with partners (including, with the spouse). Relations of various kinds with a person from afar, contracts with representatives of foreign companies and foreign organizations. With the defeat of the elements of the house - the process, the proceedings, the expression of disagreement. Activities abroad under the contract, especially teaching, literary, publishing or missionary, as well as advisory. Work in associations and enterprises with the above activities. With favorable indicators of the house - gaining a reputation abroad, popularizing people's ideas. Communication with people mainly takes place on an intellectual level, and also on the basis of a common worldview. When confirmed by other indicators - an indication of the trip, the departure of the spouse. If the elements of the house are damaged, the gap is due to the difference in life views and attitudes. The beginning of the divorce process. Perhaps marriage abroad, if there is an indication in the radix.
9 house of the solarol in the homes of the natal horoscope
Comments: