The solar horoscope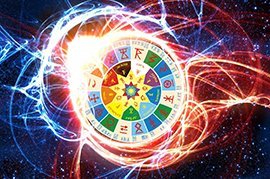 Solar's method allows to identify the potential of events that can occur to a person during his solar year. Similarly, if necessary, you can identify events that can not happen, and exclude them from further consideration. In fact, Solyar is a transit card fixed at the time of the Sun's return to its natal position, taking into account the coordinates of the locality where the person was (!) At that moment.
Select the date, time and place birth:
9 house of the solarium with 2 house of the natal horoscope
The worldview of a person is influenced by materialistic promises, the visible power of money, the ability to earn and spend independently. Often - the development of a certain view of financial problems. Also a rethinking of spiritual values. Travel, travel has an impact on a person's financial situation. When the factors favor the house, they make a profit, while in the case of defeat, they incur costs. Possibility of teaching, transfer of knowledge and views, propaganda and literary, publishing activity brings income. Incomes can bring connections with foreigners, a joint business. Money ambitions of the person considerably increase. Finding the prospects for enrichment, the financial foundation of existence.
9 house of the solarol in the homes of the natal horoscope
Comments: