The solar horoscope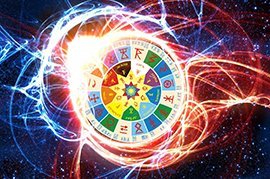 Solar's method allows to identify the potential of events that can occur to a person during his solar year. Similarly, if necessary, you can identify events that can not happen, and exclude them from further consideration. In fact, Solyar is a transit card fixed at the time of the Sun's return to its natal position, taking into account the coordinates of the locality where the person was (!) At that moment.
Select the date, time and place birth:
♂ Mars in 10 home of a solar horoscope
Active actions of a person with regard to career development, achievement of public status or the implementation of the current program of the year (as directed by the IPU) will be successful or lead to failure depending on the aspects of Mars. Usually the solution of these questions is always connected with complications and conflicts. But energy, pressure, often arrogance and ambitiousness of a person are greatly enhanced. Dangerous, risky actions. Undetected or poorly aspected Mars can mean, on the contrary, negligence, inactivity and lack of initiative, life along the current. Changes in the social status of a person. For a woman, she can indicate the year of marriage, if it is perceived by her as a goal. The negative aspects of Mars threaten the loss of position, authority, independence, discredit, unfavorable changes at work. Also - a threat to the boss, if this can affect the position of a person. Conflicts with superiors, authorities, law enforcement agencies. The danger for that of the parents, which is described by the 10th house in the human horoscope.
♂ Mars in the houses of the solar horoscope
Comments: