The solar horoscope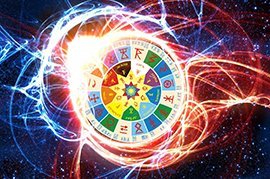 Solar's method allows to identify the potential of events that can occur to a person during his solar year. Similarly, if necessary, you can identify events that can not happen, and exclude them from further consideration. In fact, Solyar is a transit card fixed at the time of the Sun's return to its natal position, taking into account the coordinates of the locality where the person was (!) At that moment.
Select the date, time and place birth:
♂ Mars in 4 home of a solar horoscope
Activity in solving property, household, family issues, housing problems. Even with positive aspects, a person's property is in danger, especially if there is a connection with the 8th house of the solar car or radix. A certain degree of rejection from the family, possibly a change of residence. Sometimes life is for two families. Collisions with family, relatives, rebellion against family traditions, struggle for their rights in the family. Active struggle for a crop on a personal plot. Negative aspects of Mars can lead to conflicts in the family, up to the severance of communication with the home and the motherland. Deterioration of health, exacerbation of gastric diseases. There is also an increased risk of accidents for the person himself. When confirmed from the radix and other elements of the solar car - the death of one of the parents or the danger to them. Sometimes it can indicate the divorce of parents if Mars is also connected with the 10th house, and the 4th house of the solar car - with the 7th and 12th.
♂ Mars in the houses of the solar horoscope
Comments: