The solar horoscope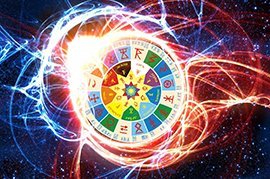 Solar's method allows to identify the potential of events that can occur to a person during his solar year. Similarly, if necessary, you can identify events that can not happen, and exclude them from further consideration. In fact, Solyar is a transit card fixed at the time of the Sun's return to its natal position, taking into account the coordinates of the locality where the person was (!) At that moment.
Select the date, time and place birth:
♂ Mars in 9 home of a solar horoscope
The activation of world outlook problems, the search for truth, interest in religion, philosophy, literature, foreign cultures, the desire to expand their horizons. Often - changing the vision of the world, as well as understanding their tasks and prospects. Often this year a person changes faith, confession, takes an unexpected even for himself ideological position. A great influence on it has a religion. An important role in this year is played by something foreign, connected with matters abroad. Intervention of foreigners or foreign companies, active contacts with them. More often indicates a break in cooperation. If Mars is not "fixed" by the 4th natal house, it indicates trips, travel. In connection with the 8th house - the dangers of travel, it is better to postpone them. When confirmed by other indicators, it indicates foreign missions, training, teaching abroad. But taking into account active searches of the person and unstable authority of the person this year, the year is not favorable for pedagogical, literary, publishing, any other intellectual or propaganda activity. With negative aspects, Mars gives a fight for false beliefs, as well as unnecessary ideological disputes. Unpleasant events in travel, disagreements with older relatives.
♂ Mars in the houses of the solar horoscope
Comments: