The solar horoscope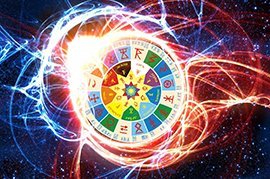 Solar's method allows to identify the potential of events that can occur to a person during his solar year. Similarly, if necessary, you can identify events that can not happen, and exclude them from further consideration. In fact, Solyar is a transit card fixed at the time of the Sun's return to its natal position, taking into account the coordinates of the locality where the person was (!) At that moment.
Select the date, time and place birth:
☽ Moon in 1 home of a solar horoscope
For the realization of the events of the year, the role of personal activity of a person significantly increases. He becomes extremely sensitive to everything that concerns him personally. Increased intuition, impressionability and reflexivity, the desire for change. But often it is these qualities that allow a person to achieve popularity, to surpass many in their influence on the masses. The circle of communication expands, there is a desire to work in contact with many people. Negative aspects of the Moon usually give strong irritability. In this case, a person is disturbed by a feeling of anxiety, nervousness, bad forebodings. May indicate a serious health disorder. Important are the affairs of home, family, heredity, property and everything that is associated with a person with his homeland, a familiar environment. A craving for a change of residence. For a woman often indicates the year of conception or childbirth. For a man can point out the hit "under the heel", on the great influence of a woman, on a happy meeting with the future chosen one.
☽ Moon in the houses of the solar horoscope
Comments: