The solar horoscope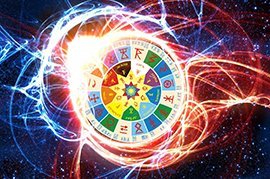 Solar's method allows to identify the potential of events that can occur to a person during his solar year. Similarly, if necessary, you can identify events that can not happen, and exclude them from further consideration. In fact, Solyar is a transit card fixed at the time of the Sun's return to its natal position, taking into account the coordinates of the locality where the person was (!) At that moment.
Select the date, time and place birth:
☽ Moon in 11 home of a solar horoscope
Changes in a friendly environment, in relationships with friends and the situation of their affairs, if this affects a person. New friends and like-minded people. Often the majority of the circle is made up of women. Human plans can also undergo significant changes. What sphere these plans concern will be shown by the house run by the Moon in the solarium, and the cause of the changes is the house in which the dispositor of the Moon is located in the solar horoscope. A person is more inclined to pay attention to social life and communication with friends, gaining popularity and sympathy, participating in interesting things than family life. This year, a person very easily perceives social, political innovations, is inclined to change his ideological platform. For a man, this situation promises successful links with women, happy events. With a negative aspect, it can give chaos, betrayals, disappointments in friends, politics, social affairs, a certain worldview, current. The collapse of plans and hopes. Quarrels with friends, avoidance of women or vice versa, a tendency to betray their wife to them. A woman has a problem with her friends.
☽ Moon in the houses of the solar horoscope
Comments: