The solar horoscope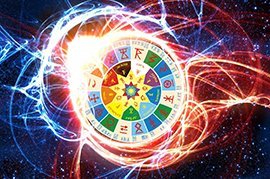 Solar's method allows to identify the potential of events that can occur to a person during his solar year. Similarly, if necessary, you can identify events that can not happen, and exclude them from further consideration. In fact, Solyar is a transit card fixed at the time of the Sun's return to its natal position, taking into account the coordinates of the locality where the person was (!) At that moment.
Select the date, time and place birth:
☽ Moon in 9 home of a solar horoscope
Changes in connection with something overseas. The position of the Moon's dispositor in a certain house of the solar car will tell more about this. A craving for everything foreign, for changing places. A good understanding of foreign cultures, religions and philosophies, penetration into the subtleties of these topics. The position is favorable for travel and can give a new medium of communication. Performances abroad, tour, communication with foreign audience. Family travel. In a man's horoscope can mean an acquaintance with a foreigner, which in the future will be of great importance to him. Dreaming, building plans, changing life prospects. Man as if tries on his future. Increases inspiration, intuitive side of thinking, ability for academic learning, perception of complex material. Negative aspects of the Moon in this situation are not very detrimental, but it is better for a person to postpone his trips and not to enter into relations with foreigners and foreign businesses, not invest abroad and buy real estate there.
☽ Moon in the houses of the solar horoscope
Comments: