The solar horoscope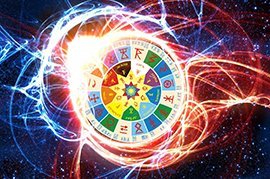 Solar's method allows to identify the potential of events that can occur to a person during his solar year. Similarly, if necessary, you can identify events that can not happen, and exclude them from further consideration. In fact, Solyar is a transit card fixed at the time of the Sun's return to its natal position, taking into account the coordinates of the locality where the person was (!) At that moment.
Select the date, time and place birth:
☉ Sun in 11 home of a solar horoscope
The wildest dreams of a man come true. Plans are carried out, people get help from friends and like-minded people. What are these plans and dreams, you can see by the aspects of the Sun, by the location of the dispositor of the Sun in a certain house of the solar. What kind of sphere of life will be most affected by the execution of these projects should be judged by the house, which the Sun manages in the solar horoscope. A big role this year is given to the affairs of a friendly environment in which a person is inclined to take part. And friends themselves have a great influence on a person. Friendship helps important accomplishments. Often, friendship is a shade of passion, involvement, creative cooperation, joint activity. The friendship that began this year will be of great importance next year. Successful ties, alliances, associations. Attraction of sympathies and patrons. The year is favorable for an advertising campaign, gaining popularity. Ambition is increasing, the ideological platform of man is being strengthened. If the Sun is damaged by negative aspects, communications and contacts can be dangerous or simply frustrating. The influence of friends and their actions should be avoided.
☉ Sun in the houses of the solar horoscope
Comments: