The solar horoscope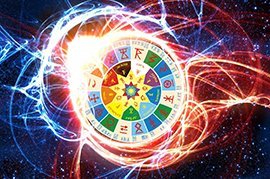 Solar's method allows to identify the potential of events that can occur to a person during his solar year. Similarly, if necessary, you can identify events that can not happen, and exclude them from further consideration. In fact, Solyar is a transit card fixed at the time of the Sun's return to its natal position, taking into account the coordinates of the locality where the person was (!) At that moment.
Select the date, time and place birth:
☉ Sun in 8 home of a solar horoscope
Participation in financial transactions of other people, in particular spouse and business partners. Favorable solution of issues of profit, inheritance, taxation, duties, loans and loans, debts. Year of increase in costs, loss of litigation, process if the Sun has a negative aspect. Involvement in mystical processes, interest in occultism, magic. Even with positive aspects, it can indicate critical situations for a person, danger, moments of transformation. Their nature can be clarified by the position of the dispositor of the Sun in a certain house of the solar horoscope. Increased sexuality, interest in energetically saturated sexual practices. Can indicate death in the family - with confirmation by other indicators (especially when connecting with personalized planets) or for a surgical operation.
☉ Sun in the houses of the solar horoscope
Comments: