Calculation of Selena - White Moon for the birthday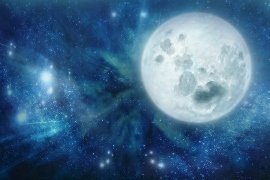 The White Moon shows light, truth, the path to a high harmony that gives a person grace, a definition of higher meaning and world harmony, that is, the very grace with which a person changing himself changes the world around him. And now this sensation of light, the feeling of higher leadership is connected with people who have a very strong Selena in their horoscope. The signs of the Zodiac, along which passes the White Moon, acquire the ability to give harmony and spiritual help. If there is a strong White Moon in your horoscope or in the cosmogram, then to you, strength comes, calmness and help in good deeds. It's like a protective covering of a person.
Select the date, time and place birth:
Selena in the sign Aries
All those who were born at this time, in their light karma, are connected with the Celestial Host.
Fate gives such people invulnerability in any honest fight and in defending justice in peacetime. Contrary to all the laws of logic and terrestrial physics, bullets fly around such people, the arrows fall into a button, a buckle or a wing of a supposedly accidentally flying bird.
However, this happens only as long as the amount of karmic merit of a person exceeds the amount of awards received by him. Once these values ​​are compared, the defense weakens, since the lowest level of White Moon's manifestation is just an exact retribution for merit - a measure for measure.
To strengthen their ties with the world of Light and increase light karma, such people need to show courage and courage, always stand guard over justice, develop a constant readiness for self-sacrifice. Being manifested on an average level, the White Moon invisibly helps a person always stand on the protection of justice and perform new feats to the glory of the ideals of good and Light.
The more active such a person defends other people (both in military and peacetime), the more securely his own life is protected.
The highest level of manifestation of light karma and the highest grace are associated with chivalry, the defense of the Fatherland and the fulfillment of the sacred military duty. This is a classic example of a noble knight without fear and reproach.
---
Comments: