Calculation of Selena - White Moon for the birthday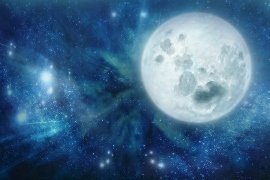 The White Moon shows light, truth, the path to a high harmony that gives a person grace, a definition of higher meaning and world harmony, that is, the very grace with which a person changing himself changes the world around him. And now this sensation of light, the feeling of higher leadership is connected with people who have a very strong Selena in their horoscope. The signs of the Zodiac, along which passes the White Moon, acquire the ability to give harmony and spiritual help. If there is a strong White Moon in your horoscope or in the cosmogram, then to you, strength comes, calmness and help in good deeds. It's like a protective covering of a person.
Select the date, time and place birth:
Selena in the sign Cancer
All those who were born at this time have good genetics and can develop the ability to come into contact with truly church-trained people.
Developing at the lowest level, White Moon at least in childhood protects the warmth of the home, maintains good relations with the ancestors and facilitates the path to recognition in the homeland.
However, the entire family, up to the seventh tribe, supports a person as long as the amount of karmic merit of a person exceeds the amount of awards received by him. Once these values ​​are compared, the defense weakens, since the lowest level of White Moon's manifestation is just an exact retribution for merit - a measure for measure. The second condition for karmic support is a strong bond with the Motherland.
To strengthen their ties with the world of Light, a person with such karma needs a lot to do to protect light traditions - family, national, religious, historical or occult.
Being manifested at an average level, the White Moon inspires a person to actively support the family, national, religious or religious traditions of their ancestors. The more time and attention such a person pays for the augmentation of the traditions of his ancestors, the more fully his own life becomes.
Anyone who has managed to show the White Moon at the highest level does not want any awards for it. He is happy that he has access to the holy Sources (in the same way no one claims for himself that he drinks spring water, and not swamp rot). The genetic code of such a person is completely cleared.
---
Comments: