Calculation of Selena - White Moon for the birthday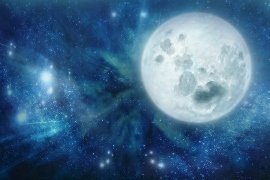 The White Moon shows light, truth, the path to a high harmony that gives a person grace, a definition of higher meaning and world harmony, that is, the very grace with which a person changing himself changes the world around him. And now this sensation of light, the feeling of higher leadership is connected with people who have a very strong Selena in their horoscope. The signs of the Zodiac, along which passes the White Moon, acquire the ability to give harmony and spiritual help. If there is a strong White Moon in your horoscope or in the cosmogram, then to you, strength comes, calmness and help in good deeds. It's like a protective covering of a person.
Select the date, time and place birth:
Selena in the sign Taurus
Born at this time, people in their light karma are associated with material and energy reserves, with wealth - in the full meaning of the word. The White Moon provides them with good health and stable material well-being. This is a reward for the generosity shown unselfishly.
However, this happens only as long as the amount of karmic merit of a person exceeds the amount of awards received by him. Once these values ​​are compared, the protection is weakened, since the lower level of White Moon's manifestation is just an exact retribution for his merits.
To strengthen your connections with the world of Light and increase light karma, you need to be unselfish and generous, for the money, strength and time that he will give to good people for objective good deeds will quickly return to him a hundredfold.
If karma is manifested at an average level, then the more attention, strength and money such a person sacrifices for good deeds, the richer (both spiritually and materially) becomes himself. Under no circumstances will he fail, all the resources invested by him will inevitably return to him at a profit.
The highest level of manifestation of the White Moon and the highest grace is the unselfish return to other people of health and material well-being. About the same time, people do not expect special gifts for being able to eat deliciously, because eating their favorite food in itself is a welcome reward for a hungry person.
---
Comments: