Calculation of Selena - White Moon for the birthday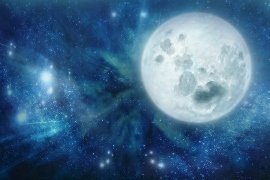 The White Moon shows light, truth, the path to a high harmony that gives a person grace, a definition of higher meaning and world harmony, that is, the very grace with which a person changing himself changes the world around him. And now this sensation of light, the feeling of higher leadership is connected with people who have a very strong Selena in their horoscope. The signs of the Zodiac, along which passes the White Moon, acquire the ability to give harmony and spiritual help. If there is a strong White Moon in your horoscope or in the cosmogram, then to you, strength comes, calmness and help in good deeds. It's like a protective covering of a person.
Select the date, time and place birth:
Selena in the sign Leo
All those who were born at this time can inspire others with their own life example and their creativity.
To the one who shows the Moon on the lowest level, it gives happiness in love and children, promotes the fullest opening of the creative potential. This is a karmic reward for the ability to inspire people, and especially the youth, with their example, for great creative achievements and faithfulness in love.
To strengthen their ties with the world of Light and increase light karma, it is necessary to develop their talents and creative abilities in every possible way. Working in the field of education, these people should remember that at the heart of any knowledge are images formed by the living word of the teacher and his personal example. They greatly depend on the level of education received by the student.
Being manifested at an average level, White Moon inspires a person to active creativity, to legitimate leadership in various spheres of life and educational work with youth. The more active such a person will be engaged in creative activity, the more vivid and multifaceted will become his natural talents.
At the highest level of the manifestation of the White Moon, such people spiritualize the masterpieces of art created by them and are the spokesmen of the collective karma of mankind.
---
Comments: