Calculation of Selena - White Moon for the birthday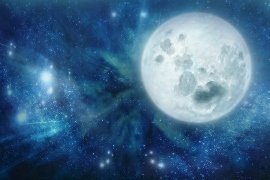 The White Moon shows light, truth, the path to a high harmony that gives a person grace, a definition of higher meaning and world harmony, that is, the very grace with which a person changing himself changes the world around him. And now this sensation of light, the feeling of higher leadership is connected with people who have a very strong Selena in their horoscope. The signs of the Zodiac, along which passes the White Moon, acquire the ability to give harmony and spiritual help. If there is a strong White Moon in your horoscope or in the cosmogram, then to you, strength comes, calmness and help in good deeds. It's like a protective covering of a person.
Select the date, time and place birth:
Selena in the sign Pisces
All those who were born at this time are karmically connected with the universal harmony and the hidden secrets of the Cosmos.
Such people inherent in the innate ability to fully merge with nature and the cosmos, to enter into contact with the more subtle than the earthly world, spheres of life.
Anyone who shows the White Moon at the lowest level, at least in childhood, sends prophetic dreams. Significant role in their life is played by signs, and sometimes there is a feeling, as if the whole cosmos took them under their protection. Such is the karmic reward for mercy and humility, for secret help, disinterestedly rendered to many who needed it.
To strengthen the connection with the world of Light and increase light karma, such a person needs to lead a quiet, solitary way of life and without unnecessary noise to help other people.
Any practice of magic is an inexcusable deception for them. Being manifested at the middle level, the White Moon gives an opportunity to become a good mediator between people who lead an open way of life and those who are in temporary isolation (hospital, monastery). The more help such a person provides to people, the more actively the whole world helps himself - sends the right signs and prophetic dreams.
People who managed to show the White Moon at the highest level understand each other without words, have access to mystical knowledge, and are able to treat mental illnesses.
---
Comments: