Lunar calendar of the gardener and gardener on february 2022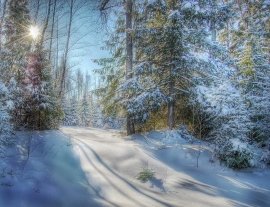 The full lunar calendar of the gardener and gardener at february 2022 year
The main February task is the accumulation of snow on the land to protect plants from winter cold, and later to moisten the soil with meltwater. Strawberry and raspberry are covered with brushwood or lapnika. To use straw for this purpose is undesirable, because it can become a mouse nursery. If the snow on the beds completely melted, then the soil can be insulated with a peat layer of the order of 10 cm. It is possible to proceed with winter vaccination of stock, harvested in the fall. The grafted plants are placed in boxes with wet moss, poured with sawdust or peat.
During this period, you can update the whitewash of trunks, and also treat the grounds of young trees. For this, it is necessary to prepare a solution from a mixture of freshly smoked lime and copper sulfate diluted in water (2.5 kg: 0.5 kg: 10 l). To increase the tackiness of the solution to the bark, it is recommended to add 2 st. milk. On the threshold of spring, hares begin to actively bite the bark of young trees. In order to protect the garden from their attacks tree trunks can be coated with fat or blood of animals. As a rule, lard is used for this purpose. Also, the trunks can be protected with synthetic burlap.
With the onset of February, gardeners-gardeners come to active action: they purchase seeds, prepare seedlings for seedlings, harvest soil, make a schedule for planting and planting seedlings, etc. It is important at the same time not to forget about the systematic care of indoor plants: watering, loosening, fertilizing . From the end of the month, they can already be cut and transplanted. The lunar calendar of truck farmers and gardeners at 2022 year will help to plan all the necessary activities. It is composed taking into account the influence of the Moon and the signs of the Zodiac on plants and nature.
In addition to the recommended works carried out according to the lunar calendar of a horticulturist, you can familiarize yourself with the general list of works performed in february.
In the current calendar (New York) all types of work are indicated - this is the so-called general calendar of the gardener for a month, so for the sake of convenience, individual lunar calendars of the gardener were made-a calendar of planting, picking, watering, harvesting and 8 more calendars especially for gardeners. You can familiarize yourself with all the lunar calendars and choose the right time for any kind of work in the garden and the garden. All calendars are compiled taking into account the phase and position of the moon in the signs of the Zodiac. Considering the influence of the moon on plants, you can correctly plan your agricultural work.
Lunar calendar of the gardener and truck farmer s 1 by 7 february 2022 years
---
Comments: