Lunar horoscope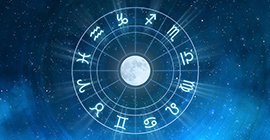 A lunar horoscope is a map compiled at the time when the transit moon returns to the position it occupied at the moment of the birth of the person (native). Lunar return is repeated approximately every 27 days and 8 hours - this is the sidereal cycle of the Moon. This horoscope is calculated using the coordinates of the place in which the person was or plans to be. In the case of moving and finding at this time in another locality, it is necessary to recalculate the lunar for new coordinates.
The lunar horoscope is a kind of matrix that preserves the tendencies laid at the time of the lunar return, during the coming lunar month.
Select the date, time and place birth:
♇ Pluto in 10 home of the lunar horoscope
Some confusion in life and in current problems, which hinders progress in professional affairs and towards a life goal. Magnetic properties of a person's personality, its sexual attractiveness are increasing. But he can also attract criminal elements. Sometimes, the goal may be to enter into sexual contact, especially if Pluto is on MS. It can mean a change or a reorientation of a person in the affairs of the home where Pluto is in the radix or the one he manages. Death or removal of the superior. A great desire for leadership. Desire to occupy a prominent social or professional position. Pressure in the career. Great ambition. Persistent actions in several areas, in several directions. Pluto in the negative aspect gives trouble in the service, the removal of office, the expression of mistrust on the part of the authorities, the loss of their positions.
♇ Pluto in the houses of the lunar horoscope
Comments: