Lunar horoscope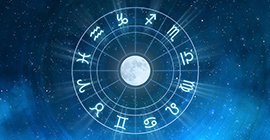 A lunar horoscope is a map compiled at the time when the transit moon returns to the position it occupied at the moment of the birth of the person (native). Lunar return is repeated approximately every 27 days and 8 hours - this is the sidereal cycle of the Moon. This horoscope is calculated using the coordinates of the place in which the person was or plans to be. In the case of moving and finding at this time in another locality, it is necessary to recalculate the lunar for new coordinates.
The lunar horoscope is a kind of matrix that preserves the tendencies laid at the time of the lunar return, during the coming lunar month.
Select the date, time and place birth:
♇ Pluto in 4 home of the lunar horoscope
Dissatisfaction with their family life, situation in the family and the demand for change. Pressure on domestic, but also reciprocal on their part as well. Differences in views. Numerous home cares. In general, most of his energy and initiative, people tend to realize at home, in the family. Propensity to self-isolation, nurturing secret plans, related - including - with the change of residence. Public or political, say, a person's activity freezes. He secluded himself, he accumulates energy for future accomplishments. Persistent pursuit of the purpose of property acquisitions or purchase of real estate and (if there is a connection with the 2nd house) the accumulation of the required amount. Possession of property is possible, if there is a connection with the 8th house. Increased interest in mysticism and magical practices, increasing occult abilities. Active study of the genealogy, its origin, penetration into the secrets of family traditions, the history of native places.
♇ Pluto in the houses of the lunar horoscope
Comments: