Lunar horoscope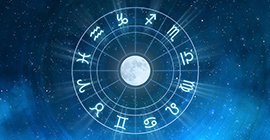 A lunar horoscope is a map compiled at the time when the transit moon returns to the position it occupied at the moment of the birth of the person (native). Lunar return is repeated approximately every 27 days and 8 hours - this is the sidereal cycle of the Moon. This horoscope is calculated using the coordinates of the place in which the person was or plans to be. In the case of moving and finding at this time in another locality, it is necessary to recalculate the lunar for new coordinates.
The lunar horoscope is a kind of matrix that preserves the tendencies laid at the time of the lunar return, during the coming lunar month.
Select the date, time and place birth:
♇ Pluto in 8 home of the lunar horoscope
Even in good aspects can mean a threat to life, the risk of an accident, injury, especially if projected to the 1st house of the radix. In other cases - heavy events that force a person to start life anew, much to rethink, fight for their existence. Can also mean surgical operations. A magical effect on a person is possible - the evil eye, spoilage, etc. on the part of envious persons and ill-wishers. Sometimes it means addressing to sorcerers, fortunetellers, psychics, etc .; usually a memorable or significant visit. Increases susceptibility to hypnosis. Activation of the work of the subconscious, a person can receive a warning, an omen of fatal events. Increases the sexuality of man and his magnetism. There are sudden sexual aspirations. The attraction of people of the opposite sex. The desire to change their financial situation, mainly at the expense of other people's money - business partners, spouse or even strangers, which can lead to the emergence of criminal situations, squabbles, fights, litigation. The year is remembered as a heavy, fatal one.
♇ Pluto in the houses of the lunar horoscope
Comments: