Lunar horoscope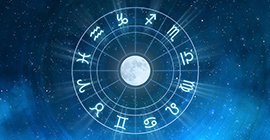 A lunar horoscope is a map compiled at the time when the transit moon returns to the position it occupied at the moment of the birth of the person (native). Lunar return is repeated approximately every 27 days and 8 hours - this is the sidereal cycle of the Moon. This horoscope is calculated using the coordinates of the place in which the person was or plans to be. In the case of moving and finding at this time in another locality, it is necessary to recalculate the lunar for new coordinates.
The lunar horoscope is a kind of matrix that preserves the tendencies laid at the time of the lunar return, during the coming lunar month.
Select the date, time and place birth:
♇ Pluto in 9 home of the lunar horoscope
Changes in life, one way or another related to foreign affairs. It is possible to go abroad or to another city, the transfer of close people. Active search for partners abroad. Business and commercial interests abroad, the search for investment and investment opportunities. The desire to eliminate unsatisfactory circumstances, at least by changing the place of residence. A trip to an unfamiliar area can really completely reorient a person, open up hitherto unknown prospects. It is this year that people's prospects for the coming years, a certain period, are determined, but without the participation of a person, but by the will of circumstances or other people. Strengthening of intellectual activity of any kind: teaching, internship, academic education, literary or publishing activities. Perhaps, sexual relations during travel and travel. Often points to the change of ideological attitudes, the concept of his life, as well as the rethinking of questions of philosophy and religion.
♇ Pluto in the houses of the lunar horoscope
Comments: