Lunar horoscope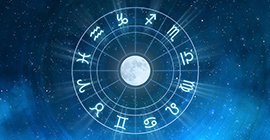 A lunar horoscope is a map compiled at the time when the transit moon returns to the position it occupied at the moment of the birth of the person (native). Lunar return is repeated approximately every 27 days and 8 hours - this is the sidereal cycle of the Moon. This horoscope is calculated using the coordinates of the place in which the person was or plans to be. In the case of moving and finding at this time in another locality, it is necessary to recalculate the lunar for new coordinates.
The lunar horoscope is a kind of matrix that preserves the tendencies laid at the time of the lunar return, during the coming lunar month.
Select the date, time and place birth:
☉ Sun in 1 home of the lunar horoscope
Emphasizes the importance of the year. Usually a person talks about this period as a turning point, the beginning of a new life cycle. It activates vital and creative energy, aspiration to independence. Often, especially in the horoscopes of young people, means the beginning of an independent or almost independent life: the end of the school and admission to the university, the end of it and the beginning of working life, a change in the life orientation. Strengthens the desire for self-expression, the realization of their potencies. With a positive aspect, it favors personal activity, an appreciation of others. The affairs of the radix home, in which the Sun is located, will be distinguished by their significance. Important things are also the affairs of the house, which the Sun rules in the solarium. These topics are becoming very prominent this year. Usually, if the Lion in the solarium is an included sign, the events of the year are greased, not manifested, and the solar characteristics in human behavior and its self-sensations are practically absent.
☉ Sun in the houses of the lunar horoscope
Comments: