Lunar horoscope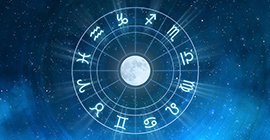 A lunar horoscope is a map compiled at the time when the transit moon returns to the position it occupied at the moment of the birth of the person (native). Lunar return is repeated approximately every 27 days and 8 hours - this is the sidereal cycle of the Moon. This horoscope is calculated using the coordinates of the place in which the person was or plans to be. In the case of moving and finding at this time in another locality, it is necessary to recalculate the lunar for new coordinates.
The lunar horoscope is a kind of matrix that preserves the tendencies laid at the time of the lunar return, during the coming lunar month.
Select the date, time and place birth:
☉ Sun in 5 home of the lunar horoscope
Stresses the importance for the person this year of the problems of the 5th house: love relationships, the birth and upbringing of children, secular life, sporting achievements, financial scams. Strengthens the ambitiousness, gambling of a person, the pursuit of risk, and also enhances sensual, erotic perception, makes a person pleasant for society, promises the help of high-ranking patrons. Often points to a strong love affection. In the female horoscope (especially in the aspect of the Moon) most often indicates the year of the birth of the child or conception, if previously there were problems. Personal problems of children become essential for a person, and a person is inclined to actively intervene in them. Increases creative energy, enterprise, pressure when the goal is achieved. This position is generally favorable for creativity and creation, for artistic career, victories in sports. Inclination to risky actions, especially when the sun is affected by negative aspects, to the game, to speculation. With a positive aspect and imposing on the 2nd house, a radix can indicate large gains. Considering the house of the solar car, which is controlled by the Sun, it is possible to establish which sphere of life will be affected by the affairs of the 5th house. And the position of the dispositor of the Sun in a certain solar house - the background of the events of the 5th house.
☉ Sun in the houses of the lunar horoscope
Comments: