Lunar horoscope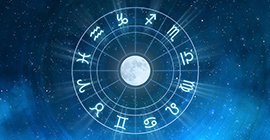 A lunar horoscope is a map compiled at the time when the transit moon returns to the position it occupied at the moment of the birth of the person (native). Lunar return is repeated approximately every 27 days and 8 hours - this is the sidereal cycle of the Moon. This horoscope is calculated using the coordinates of the place in which the person was or plans to be. In the case of moving and finding at this time in another locality, it is necessary to recalculate the lunar for new coordinates.
The lunar horoscope is a kind of matrix that preserves the tendencies laid at the time of the lunar return, during the coming lunar month.
Select the date, time and place birth:
☉ Sun in 6 home of the lunar horoscope
He places a person in dependence, a subordinate position. From which persons or situations - will show the location of the dispositor of the Sun in a certain solar house. Makes you serve, gives duties and debts. But under certain positive configurations of the Sun can indicate the end of submission or service, the employment of a higher position, an independent position, promotion. It often indicates a year of temporary deterioration in health, a violation of the energy of the body. On the aspects of the sun, it is possible to establish the most affected organ and the nature of the course of the disease. This provision can also indicate trouble in the sphere of life described by the solar home, which is controlled by the Sun. With a negative aspect, attempts at promotion or improvement of one's position end in failure.
☉ Sun in the houses of the lunar horoscope
Comments: