Lunar horoscope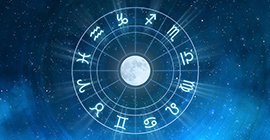 A lunar horoscope is a map compiled at the time when the transit moon returns to the position it occupied at the moment of the birth of the person (native). Lunar return is repeated approximately every 27 days and 8 hours - this is the sidereal cycle of the Moon. This horoscope is calculated using the coordinates of the place in which the person was or plans to be. In the case of moving and finding at this time in another locality, it is necessary to recalculate the lunar for new coordinates.
The lunar horoscope is a kind of matrix that preserves the tendencies laid at the time of the lunar return, during the coming lunar month.
Select the date, time and place birth:
☉ Sun in 10 home of the lunar horoscope
This year the person will remember how very important for himself. The events of this year somehow approximate a person to the chosen goal or schedule it. This year the person finds a certain position, position, title, independence. Positive aspects of the Sun help advance in the career, help the authorities. A person becomes a big or a small boss himself. The year is favorable for politicians, public figures, and big leaders. often indicates the year of the beginning of a career, the professional success, the acquisition of patrons. The negative aspect of the Sun makes success not so pronounced. Despite gaining independence, promotion in professional or public activities is not so pronounced and is difficult. Conflicts with superiors, authorities, neglect of the merits of a person on their part.
☉ Sun in the houses of the lunar horoscope
Comments: