The solar horoscope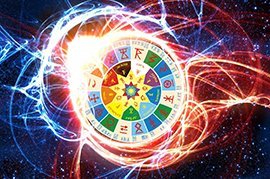 Solar's method allows to identify the potential of events that can occur to a person during his solar year. Similarly, if necessary, you can identify events that can not happen, and exclude them from further consideration. In fact, Solyar is a transit card fixed at the time of the Sun's return to its natal position, taking into account the coordinates of the locality where the person was (!) At that moment.
Select the date, time and place birth:
☿ Mercury in 11 home of a solar horoscope
Favorable for communication in a friendly circle, to discuss their hopes and aspirations. A person thinks about the ideological platform of his life, actively builds plans and projects. Can indicate changes in a friendly circle, if it is generally important for a person, about establishing friendly relations with brothers and sisters. Circle of communication can be mainly younger in age persons. Friendly correspondence, acquisition of friendship by correspondence. Joint business interests with a person who sympathizes with a person. Useful links. Intellectual contacts with the public (interviews, lectures, etc.). Negative aspects point to vain hopes for the help of friends, to deprivation of support, loss of sympathy, disagreement with friends. When the opposition in the 5 th house indicates a disagreement with the children and the loss of their location, numerous troubles due to children.
☿ Mercury in the houses of the solar horoscope
Comments: