The solar horoscope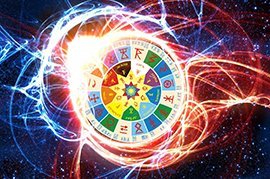 Solar's method allows to identify the potential of events that can occur to a person during his solar year. Similarly, if necessary, you can identify events that can not happen, and exclude them from further consideration. In fact, Solyar is a transit card fixed at the time of the Sun's return to its natal position, taking into account the coordinates of the locality where the person was (!) At that moment.
Select the date, time and place birth:
☿ Mercury in 12 home of a solar horoscope
In some cases, it may indicate clandestine communication, correspondence with persons who are in hiding, in the distance, in confinement or in relation to which violent acts are applied. Experiences due to letters, conversations, visits, unsuccessful communication style. Secret thoughts and doubts, mental torment, heated by logical calculations, human intelligence. Difficulties in expressing one's thoughts or failing to express them and make a final decision. The positive aspect of Mercury favors hidden intellectual activity, writings in solitude, scientific research, religious propaganda. The year is unfavorable for journalists, teachers, anyone who needs contact with an audience of intellectual or verbal nature. Perhaps secret literary creativity, hidden mediation, fraud in the trade. Negative aspects of Mercury make confusion in a person's thoughts, give hypochondria, melancholy, bifurcation of the mind, incomprehensible mental motions, behind-the-scenes intrigues, blackmail.
☿ Mercury in the houses of the solar horoscope
Comments: