The solar horoscope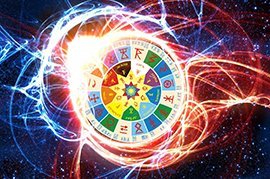 Solar's method allows to identify the potential of events that can occur to a person during his solar year. Similarly, if necessary, you can identify events that can not happen, and exclude them from further consideration. In fact, Solyar is a transit card fixed at the time of the Sun's return to its natal position, taking into account the coordinates of the locality where the person was (!) At that moment.
Select the date, time and place birth:
☿ Mercury in 4 home of a solar horoscope
Often indicates a temporary residence in another place, the house, moving from one place of residence to another. Many conversations about family problems or correspondence, telephone conversations with relatives. In general, a lot of communication on the home phone. Intellectual activity of the house, in silence, in familiar surroundings. When defeated by negative aspects - quarrels in the family, divergences in views, discussion of family problems and traditions. Communication with family and home places may be temporarily interrupted. Some changes in the family.
☿ Mercury in the houses of the solar horoscope
Comments: