The solar horoscope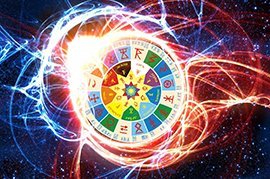 Solar's method allows to identify the potential of events that can occur to a person during his solar year. Similarly, if necessary, you can identify events that can not happen, and exclude them from further consideration. In fact, Solyar is a transit card fixed at the time of the Sun's return to its natal position, taking into account the coordinates of the locality where the person was (!) At that moment.
Select the date, time and place birth:
☿ Mercury in 8 home of a solar horoscope
Can indicate a change in the nature or style of human learning (it became good or bad to learn depending on the aspects). Start learning a new discipline. Man's thoughts and conversations can be directed at performing a surgical operation, especially in the aspect of Pluto (the natal house, in which the solar Pluto is located, will point to the operated organ or part of the body). Discussion of sexual themes, intimate relationships. Essential rethinking of life processes, as well as their own style of communication. Contacts with financial and administrative authorities. Agreements on the distribution of profits and the allocation of capital, on other issues related to other people's money. Negative aspects of Mercury make all these issues difficult, sometimes dangerous for humans. Possible trips and concerns related to someone else's death. A confirmation from the radix may indicate the death of a brother or sister.
☿ Mercury in the houses of the solar horoscope
Comments: