The solar horoscope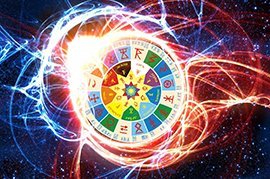 Solar's method allows to identify the potential of events that can occur to a person during his solar year. Similarly, if necessary, you can identify events that can not happen, and exclude them from further consideration. In fact, Solyar is a transit card fixed at the time of the Sun's return to its natal position, taking into account the coordinates of the locality where the person was (!) At that moment.
Select the date, time and place birth:
6 house of the solarium in 10 house of the natal horoscope
Strong work to achieve the goal, at least current. Perhaps getting because of this in a subordinate, dependent position, everyday, boring work. Gives patience, perseverance. Reduces the freedom of action, brings concern about the position, the difficulties in the work. Great importance in this year has a relationship with the authorities, which - depending on the indicators of the house - can both elevate a person and humiliate. If there are favorable indicators, the house indicates the possibility of expanding its own enterprise, promotes popularity, the opportunity to take a prominent social and financial position thanks to the work.
6 house of the solarol in the homes of the natal horoscope
Comments: