The solar horoscope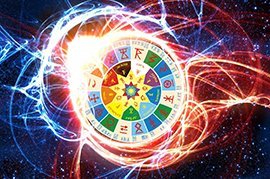 Solar's method allows to identify the potential of events that can occur to a person during his solar year. Similarly, if necessary, you can identify events that can not happen, and exclude them from further consideration. In fact, Solyar is a transit card fixed at the time of the Sun's return to its natal position, taking into account the coordinates of the locality where the person was (!) At that moment.
Select the date, time and place birth:
6 house of the solarium in 4 house of the natal horoscope
Most often indicates intensified work at home, work at home or at family enterprises. Also, the fact that a person finds a position dependent on parents or other relatives becomes bound by the conventions and traditions of the clan, the social environment, the social stratum. Family members can take part, or at least show interest in the work of a person, his official position. The year can also be distinguished by illness of parents, members of their own family, as well as damage to property, real estate rights, its land and enterprises. Perhaps participation in agricultural work, employment in mining, processing industry.
6 house of the solarol in the homes of the natal horoscope
Comments: