The solar horoscope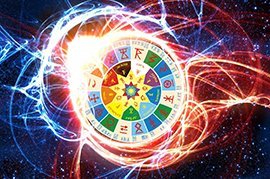 Solar's method allows to identify the potential of events that can occur to a person during his solar year. Similarly, if necessary, you can identify events that can not happen, and exclude them from further consideration. In fact, Solyar is a transit card fixed at the time of the Sun's return to its natal position, taking into account the coordinates of the locality where the person was (!) At that moment.
Select the date, time and place birth:
6 house of the solarium with 2 house of the natal horoscope
In financial terms, a person is in a dependent position, but can earn a living wage by hard work, boring work. Often points out that the only income item this year will be the official salary. Or a person has to go to work that does not suit him, to earn a living bread. In general, incomes in this years are meager and irregular. Possible spending on the amendment of health, wellness measures, expensive treatment. Disorder of health, disability significantly affects the level of human well-being this year. The position may indicate retirement, exemption from duties for health reasons. Payments, benefits due to work-related injuries, forced downtime, etc.
6 house of the solarol in the homes of the natal horoscope
Comments: