The solar horoscope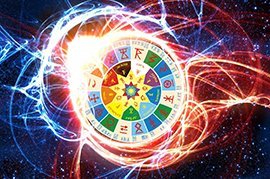 Solar's method allows to identify the potential of events that can occur to a person during his solar year. Similarly, if necessary, you can identify events that can not happen, and exclude them from further consideration. In fact, Solyar is a transit card fixed at the time of the Sun's return to its natal position, taking into account the coordinates of the locality where the person was (!) At that moment.
Select the date, time and place birth:
6 house of the solarium in 12 house of the natal horoscope
Can indicate the termination of a certain type of activity, leaving work, sometimes under mysterious, strange circumstances. Independent work in solitude, bearing fruit in the future, work for the future. There may be some limitation in the work, the inability to express one's qualities as an employee, a production worker. Also - unpleasant incidents in the production, various subjects that occur on hidden motives. When confirmed by other indicators, one of the diseases can go to a chronic one, requiring hospitalization, prolonged home treatment or surgery. The need for life away from human eyes due to illness, accident. There may be difficulties with nutrition, diet, hygiene requirements, harm from animals.
6 house of the solarol in the homes of the natal horoscope
Comments: