The solar horoscope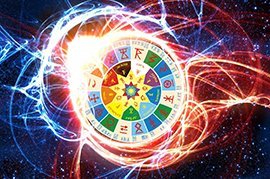 Solar's method allows to identify the potential of events that can occur to a person during his solar year. Similarly, if necessary, you can identify events that can not happen, and exclude them from further consideration. In fact, Solyar is a transit card fixed at the time of the Sun's return to its natal position, taking into account the coordinates of the locality where the person was (!) At that moment.
Select the date, time and place birth:
6 house of the solarium in 3 house of the natal horoscope
The work of a person this year is connected with travel or the activities of communication services. During movements and in everyday life, in everyday life a person should be attentive because of the possibility of a disease or loss of health in another way. Change of residence, climate change in general will adversely affect the vital activity of the organism. In addition, by mail, in a conversation, a person receives news of an official move, a change in working conditions or hiring, etc. message. Often this position can be attributed to the deterioration of the health of a brother or sister, another close relative. It is favorable for a person if his activity "passes" through the 3rd house - for businessmen, intermediaries, intellectual workers, writers, journalists, secretaries, telecommunications workers.
6 house of the solarol in the homes of the natal horoscope
Comments: