Lunar horoscope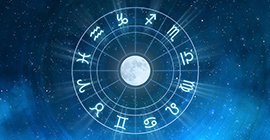 A lunar horoscope is a map compiled at the time when the transit moon returns to the position it occupied at the moment of the birth of the person (native). Lunar return is repeated approximately every 27 days and 8 hours - this is the sidereal cycle of the Moon. This horoscope is calculated using the coordinates of the place in which the person was or plans to be. In the case of moving and finding at this time in another locality, it is necessary to recalculate the lunar for new coordinates.
The lunar horoscope is a kind of matrix that preserves the tendencies laid at the time of the lunar return, during the coming lunar month.
Select the date, time and place birth:
☽ Moon in 10 home of the lunar horoscope
Most often testifies to changes in career, position, about gaining a more independent, independent position, about high activity and the desire for change. Change of bosses, meaningful for human beings. Often - the acquisition of a patron in the face of a woman in a man's horoscope. With positive aspects favors contacts with the public, brings popularity and a reliable patron. A good position for politicians, artists, all, whose activities are connected with the public, the broad masses. The person begins to feel more confident, his behavior displays imperious notes, his face has a haughty and independent expression. A woman with confirmation by other indicators may indicate the entry into a long-awaited marriage or marriage, through which she will gain a higher and better position. Changes in family relations and business, in matters of real estate and property. In the negative aspect - a career crisis, stagnation in business, quarrels with superiors, the collapse of plans for professional affairs, deterioration of the health of the mother or wife for the man. For a woman, marriage can be postponed or be unhappy.
☽ Moon in the houses of the lunar horoscope
Comments: