Lunar horoscope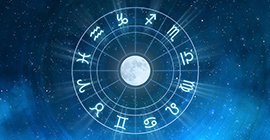 A lunar horoscope is a map compiled at the time when the transit moon returns to the position it occupied at the moment of the birth of the person (native). Lunar return is repeated approximately every 27 days and 8 hours - this is the sidereal cycle of the Moon. This horoscope is calculated using the coordinates of the place in which the person was or plans to be. In the case of moving and finding at this time in another locality, it is necessary to recalculate the lunar for new coordinates.
The lunar horoscope is a kind of matrix that preserves the tendencies laid at the time of the lunar return, during the coming lunar month.
Select the date, time and place birth:
☽ Moon in 4 home of the lunar horoscope
Usually indicates a change of residence, temporary or discrete residence in another house. Thrust to move. Internal anxiety prompts the person to seek consolation in the renovation of the situation, to break with the usual atmosphere. In general, this provision is associated with certain experiences because of property, domestic issues, family matters, relations with parents and other relatives. Dissatisfaction with the state of affairs in the family. The person is occupied with problems of acquisition of property, conflicts due to the right of possession, inheritance. The mystery of origin, the details of the pedigree, the discussion of family traditions - these things also do not pass by a person this year. For a woman, position can mean a change in the position of the father, as well as the importance of his interference in her personal affairs. In general, in the family, major changes are also possible for men. Negative aspects of the Moon lead to depression, disagreements in the family, parents' illnesses. A severe defeat of the Moon, confirmed by other indicators, may indicate death in the family.
☽ Moon in the houses of the lunar horoscope
Comments: