Lunar horoscope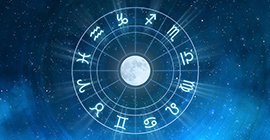 A lunar horoscope is a map compiled at the time when the transit moon returns to the position it occupied at the moment of the birth of the person (native). Lunar return is repeated approximately every 27 days and 8 hours - this is the sidereal cycle of the Moon. This horoscope is calculated using the coordinates of the place in which the person was or plans to be. In the case of moving and finding at this time in another locality, it is necessary to recalculate the lunar for new coordinates.
The lunar horoscope is a kind of matrix that preserves the tendencies laid at the time of the lunar return, during the coming lunar month.
Select the date, time and place birth:
☽ Moon in 7 home of the lunar horoscope
Major changes in life due to the influence of the spouse or various partners of a different kind, including business. Because of this, the public significance of the person, his popularity will change. This is especially true for women. The year of the rise of popularity and significance, if the radix provides such an opportunity. Contacts with the public are significantly expanding. Public life this year is much more important than personal problems. With a negative aspect, it can indicate crises in relationships, separation, divorce. These or other changes in family life. If confirmed by other indicators, women may indicate conception and pregnancy. For men, often indicates a happy meeting with a future woman, marriage, as well as the conclusion of important contracts, contracts, agreements. A woman patron or ally can provide important support to a man.
☽ Moon in the houses of the lunar horoscope
Comments: