Lunar horoscope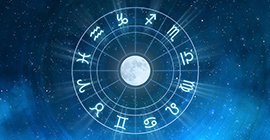 A lunar horoscope is a map compiled at the time when the transit moon returns to the position it occupied at the moment of the birth of the person (native). Lunar return is repeated approximately every 27 days and 8 hours - this is the sidereal cycle of the Moon. This horoscope is calculated using the coordinates of the place in which the person was or plans to be. In the case of moving and finding at this time in another locality, it is necessary to recalculate the lunar for new coordinates.
The lunar horoscope is a kind of matrix that preserves the tendencies laid at the time of the lunar return, during the coming lunar month.
Select the date, time and place birth:
☽ Moon v 2 home of the lunar horoscope
The financial side is unstable. Revenues are not regular and are not significant. With the extremely positive aspect of the Moon and the confirmation of other forecast methods, this provision can mean a radical favorable change in the revenue side of the budget. In enrichment, an important role belongs to the family of a person, his relatives, parents, as well as the general public. That is, enrichment in connection with social activities, social status, and also through joint activities with business partners is possible. Family concerns are related to material well-being. The negative aspect of the Moon threatens serious losses, losses, with the appropriate aspect - theft. Strengthens the tendency to waste, humbug, excessive claims to earnings. Fluctuations in the financial sphere in this case are negative. A person is inclined to commit rash acts, to make unwanted connections. May cause public discontent, be subject to negative influence from their partners and spouse. It is very difficult to solve monetary difficulties in the family. They are usually of serious, appalling nature. In addition, a person experiences periods of laziness, apathy, depression, and decreased activity.
☽ Moon in the houses of the lunar horoscope
Comments: