Lunar horoscope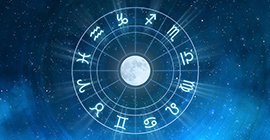 A lunar horoscope is a map compiled at the time when the transit moon returns to the position it occupied at the moment of the birth of the person (native). Lunar return is repeated approximately every 27 days and 8 hours - this is the sidereal cycle of the Moon. This horoscope is calculated using the coordinates of the place in which the person was or plans to be. In the case of moving and finding at this time in another locality, it is necessary to recalculate the lunar for new coordinates.
The lunar horoscope is a kind of matrix that preserves the tendencies laid at the time of the lunar return, during the coming lunar month.
Select the date, time and place birth:
☽ Moon in 6 home of the lunar horoscope
Most often, it involves changing the official position, changing the place of work or the nature of the work activity. The reason for these changes can be clarified by considering the disposition of the Moon in the solarium. What areas of life will be affected by these changes will be shown by the house that the Moon controls in the solarium. If the aspect of the Moon is minor, a person feels a difference in performance. Work with the public, the masses or social activities. Labor in sight. Even with the positive aspect of the moon, the year is not favorable for trade, sanatorium-resort business, medical practice, work in the service sector, public catering. This position also draws the attention of a person to the state of health, in connection with which he experiences fears, doubts, indispositions, actual worsening of the state. Even with a positive aspect, this situation does not contribute to recovery. Stomach diseases worsen. Especially detrimental is the importance for women. For a man can mean illness of a woman close.
☽ Moon in the houses of the lunar horoscope
Comments: