Lunar horoscope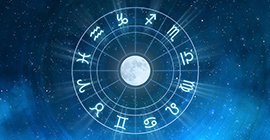 A lunar horoscope is a map compiled at the time when the transit moon returns to the position it occupied at the moment of the birth of the person (native). Lunar return is repeated approximately every 27 days and 8 hours - this is the sidereal cycle of the Moon. This horoscope is calculated using the coordinates of the place in which the person was or plans to be. In the case of moving and finding at this time in another locality, it is necessary to recalculate the lunar for new coordinates.
The lunar horoscope is a kind of matrix that preserves the tendencies laid at the time of the lunar return, during the coming lunar month.
Select the date, time and place birth:
☽ Moon in 8 home of the lunar horoscope
The year is favorable in a financial sense, but usually not for the person himself, but for his spouse or business partners. It also indicates a change in the situation with the payment of taxes, duties, with debt obligations, with inheritance from women and profits in connection with the activities of other people, especially women. Changes in the sexual sphere. A man tries to fill his sex with sensuality, emotions, demands from the partner a sense of security, reliability. The unfavorable aspect of the moon entails a disease of the wife or mother for men. In general, death walks next to a person. At the woman at acknowledgment from the fifth house the birth of the dead child is possible. General soreness, dangerous situations, nervousness, suspiciousness, depression, suspiciousness. Changes in attitude towards mystical processes and occult practices.
☽ Moon in the houses of the lunar horoscope
Comments: