Lunar horoscope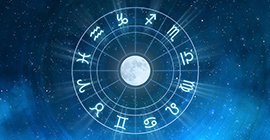 A lunar horoscope is a map compiled at the time when the transit moon returns to the position it occupied at the moment of the birth of the person (native). Lunar return is repeated approximately every 27 days and 8 hours - this is the sidereal cycle of the Moon. This horoscope is calculated using the coordinates of the place in which the person was or plans to be. In the case of moving and finding at this time in another locality, it is necessary to recalculate the lunar for new coordinates.
The lunar horoscope is a kind of matrix that preserves the tendencies laid at the time of the lunar return, during the coming lunar month.
Select the date, time and place birth:
☽ Moon in 12 home of the lunar horoscope
The year is full of emotions, unpleasant and incomprehensible anxieties, disappointments. Can point to cares and sorrows for women, especially for men. The reason can be adultery. For women - she herself is inclined to betrayal, threatening in the future, their discovery and severance of relations. Perhaps this or that clash with criminal elements. There will be a person a victim or a culprit or an assistant to justice, it will be revealed when considering aspects of the moon. Usually, if the Moon makes aspects in the 8th, 1 st or 4 th house - a person becomes a victim of an assassination attempt, if in the 7th or 10th - becomes the object of accusation, if in the 9th - will be an accomplice of the law and order. The possibility of imprisonment, deprivation of liberty should also be considered. This is especially pointed out by the negative aspects with Saturn. But of course, this should be confirmed in the radix. This year, a person is defenseless against enemies. He is surrounded by hostility. This provision indicates a general health disorder, intrigues around a person, conflicts in the family. The year is not favorable for travel, trade, advertising campaign. With a positive aspect of the moon, the year is favorable for hard work, secret research, spiritual practices.
☽ Moon in the houses of the lunar horoscope
Comments: