The solar horoscope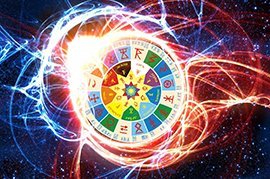 Solar's method allows to identify the potential of events that can occur to a person during his solar year. Similarly, if necessary, you can identify events that can not happen, and exclude them from further consideration. In fact, Solyar is a transit card fixed at the time of the Sun's return to its natal position, taking into account the coordinates of the locality where the person was (!) At that moment.
Select the date, time and place birth:
2 house of the solarium in 12 house of the natal horoscope
It indicates first of all that the person is constrained in the means, and in this connection he is compelled to lead not exactly the kind of life that he wants. There may be money from mysterious sources, from secret activities, hidden well-wishers or as a result of unsuccessful machinations, on the contrary, secret enemies. Part of the funds can go to treatment, stay in a sanatorium, a hospital, and also to release from custody (on bail or with the help of a bribe). The situation can be difficult, complicated obligations and debts. Profitable lessons mystical practices, occult sciences, work in secret societies. In any case, the material side of existence will not be favorable this year to active undertakings.
2 house of the solarol in the homes of the natal horoscope
Comments: