The solar horoscope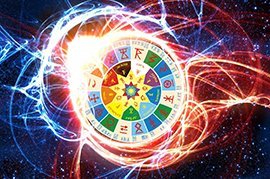 Solar's method allows to identify the potential of events that can occur to a person during his solar year. Similarly, if necessary, you can identify events that can not happen, and exclude them from further consideration. In fact, Solyar is a transit card fixed at the time of the Sun's return to its natal position, taking into account the coordinates of the locality where the person was (!) At that moment.
Select the date, time and place birth:
2 house of the solarium in 8 house of the natal horoscope
With favorable indicators of the 2nd house, this position presages the inheritance, profit as a result of interaction with other people, the return of debts (usually with interest), from the actions of inspection inspectors and organizations. Negative factors of the 2nd house should warn against the hopes for the help of partners. Possible loss of livelihood or significant transformation. Threatened by bankruptcy or unemployment. Sexual connections can bring a certain profit. Also income from occult activities, mystical practices. Often a person rethinks his attitude to material values, chooses a new earnings strategy.
2 house of the solarol in the homes of the natal horoscope
Comments: