The solar horoscope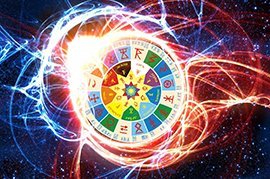 Solar's method allows to identify the potential of events that can occur to a person during his solar year. Similarly, if necessary, you can identify events that can not happen, and exclude them from further consideration. In fact, Solyar is a transit card fixed at the time of the Sun's return to its natal position, taking into account the coordinates of the locality where the person was (!) At that moment.
Select the date, time and place birth:
2 house of the solarium in 3 house of the natal horoscope
Money problems a person can solve at the expense of the start of training (scholarships), travel and relocation, the conclusion of contracts or with the support of close relatives. Intellectual training also brings profit. Also, and vice versa, an indication of paid training. Earnings are not permanent, they can not be planned. Also, personal budget can not be distributed. Often stupid small expenses on the background of scanty income. Money can come by mail (transfers, subscriptions). It creates a feeling of instability in the financial situation, a house of cards, when at any moment you can suffer losses or, conversely, get a certain amount. Often the solution of material issues depends on the cunning, resourcefulness of the person in the money field. The year is favorable for the purchase of vehicles and communications equipment.
2 house of the solarol in the homes of the natal horoscope
Comments: