The solar horoscope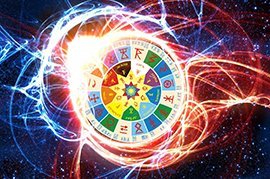 Solar's method allows to identify the potential of events that can occur to a person during his solar year. Similarly, if necessary, you can identify events that can not happen, and exclude them from further consideration. In fact, Solyar is a transit card fixed at the time of the Sun's return to its natal position, taking into account the coordinates of the locality where the person was (!) At that moment.
Select the date, time and place birth:
2 house of the solarium in 5 house of the natal horoscope
A certain part of a person's budget can be made up of money received from a loved one or simply a sexual partner, boyfriend, fan. The person can be on the maintenance or some kinds of expenses to shoulder on the listed persons. Often this year, personal earnings also increase, especially due to the manifestation of creative talents, success in art or teaching activities. Some of the financial plans may not be without justification related to the winnings - in the lottery, in gambling, on the stock exchange, as a result of fraud and speculation. In a certain way, sport can also bring income if a person is associated with it. But if the indicators of the 2nd house are negative, one should keep in mind the possibility of losses from the listed activities. Also during the year a person can be kept by his children, patrons, sponsors, benefactors.
2 house of the solarol in the homes of the natal horoscope
Comments: