The solar horoscope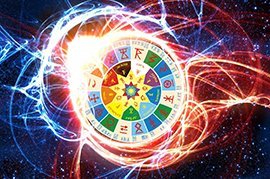 Solar's method allows to identify the potential of events that can occur to a person during his solar year. Similarly, if necessary, you can identify events that can not happen, and exclude them from further consideration. In fact, Solyar is a transit card fixed at the time of the Sun's return to its natal position, taking into account the coordinates of the locality where the person was (!) At that moment.
Select the date, time and place birth:
3 house of the solarium in 12 house of the natal horoscope
The person is closed for communication. He supports only the most necessary connections, giving up many contacts. Often this is a forced situation, but there may be a conscious act. Often points to the complication of relations with close relatives, especially with a brother or sister, the rejection of their personality. There is reluctance to move, fatigue, isolation, apathy. The year favors the study of the occult sciences: occultism, criminology. The person himself can make mysterious trips, conduct secret talks, obtain information from hidden sources, can keep track of or be installed by him himself. There may be contacts with the criminal world. Training, mastering skills, practices best occurs in isolation from everyday life, in peace and seclusion. Intuitive knowledge of the world, of enlightenment.
3 house of the solarol in the homes of the natal horoscope
Comments: