The solar horoscope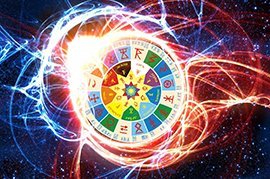 Solar's method allows to identify the potential of events that can occur to a person during his solar year. Similarly, if necessary, you can identify events that can not happen, and exclude them from further consideration. In fact, Solyar is a transit card fixed at the time of the Sun's return to its natal position, taking into account the coordinates of the locality where the person was (!) At that moment.
Select the date, time and place birth:
3 house of the solarium in 6 house of the natal horoscope
Multiple movements in connection with the performance of official duties. In some cases, it may indicate the presence of two places of work. Diseases of relatives, cares and obligations in this regard. Your own state of health causes anxiety and nervousness. "Campaigns" for doctors. Perhaps a little trip for the correction of health, a trip to the resort. Disclosure of some healing abilities, interest in medicine, dietology, hygiene, wellness activities.
3 house of the solarol in the homes of the natal horoscope
Comments: