The solar horoscope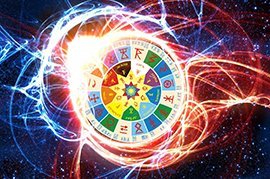 Solar's method allows to identify the potential of events that can occur to a person during his solar year. Similarly, if necessary, you can identify events that can not happen, and exclude them from further consideration. In fact, Solyar is a transit card fixed at the time of the Sun's return to its natal position, taking into account the coordinates of the locality where the person was (!) At that moment.
Select the date, time and place birth:
3 house of the solarium in 5 house of the natal horoscope
A person actively entertains, makes pleasure walks, takes part in social life, in connection with which there is a mass of admirers and influential patrons. With the confirmation of other indicators at home, it is possible to conceive, give birth to a child from fleeting communication, a friend. Love correspondence, visits, explanations, flirting. May indicate the beginning of the child's learning. Some development of literary, journalistic talent, activity in this sphere. Meetings, contacts and travel in this regard. The study of the theory of art, going to museums, etc.
3 house of the solarol in the homes of the natal horoscope
Comments: